by Sheila Rempel guest blogger and manager at Journeys/Renaissance Travel.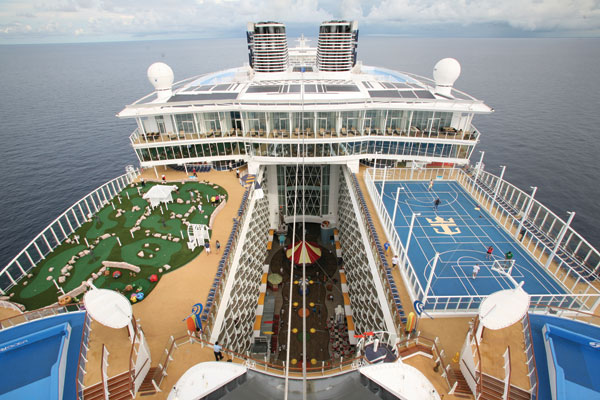 Days 6 and 7 on this itinerary are days at sea. These days allow you to experience all the
ship has to offer and to repeat the things you enjoyed! I enjoy watching the interaction of the
guests onboard. I especially like
watching the families. Over and over I
notice the grandparents, parents, and children playing together. Like the Grandma I watched do the zip line
and the joy on her family's faces as they cheered her on and high fived her
when she was done!
Royal Caribbean is one of the best cruise lines for
families. There are plenty of options
for all ages. They have partnered with
Dreamworks and you will often see the characters from Shrek, Madagascar, and Po
from Kung Fu Panda wandering the ship, pausing for pictures, and delighting
young and old alike!
When I last left you, we were going to the ice show
Frozen in Time. This was fantastic! So good, in fact, that I said that was a show
I would see again! The costumes,
movement, and presentation was spellbinding!
A do not miss for sure!
Last night's dinner feature was lobster and we were not
disappointed! In fact, all the food on board has been great! There are so many options I truly believe you
cannot try them all in 7 days! For me,
another favorite part of cruising….endless choices of what to eat!
For now, I need to decide do I go to Zumba class, attend
an Art auction, take a tour of Central Park with a landscape specialist, go ice
skating, take a seminar at the day spa or fitness centre, walk the track on
deck 5, relax in a deck chair…..you get the idea!
It's always sad when knowing that the cruise experience
will end, but all good things must! Tomorrow morning we are back in Fort
Lauderdale. We are spending the day
there and will return home on Sunday. It
has been a great time spent with friends and creating special memories!
Sheila will be back in the office on Monday. Talk with her about this cruise or others by calling 204 942-5000 in Winnipeg or book online at www.renaissancetravel.ca .
Find the best in travel products at www.journeystravelgear.com